At Jackpot Combined School, we believe the educational process is a shared responsibility between students and families, school staff, and the community. For our part, we strive to establish a safe and respectful learning environment where all students can acquire the skills they need for success. We believe every student, parent, staff member, and person within our community is worthy of respect and has a diverse set of talents, abilities, and culture that strengthens our learning community.
Preparing Students for Future Success
Our curriculum adheres to state standards in all subjects, including the core areas of language arts, mathematics, science, and social studies. We also offer instruction in art, business, career exploration, and physical education. To learn more about available courses, please see our student handbook.
Graduation Requirements
In order to graduate from an Elko County high school, students must take the ACT exam and earn 23 course credits by successfully completing the following:
4 units of English

3 units of Math

3 units of Science

3 units of Social Studies

½ unit of Health

½ unit of Computers

2 units of Physical Education

1 unit of Humanities/Occupational Courses

6 units of Elective Courses
Advanced Diploma Option
Students who earn an additional credit in math and graduate with a minimum 3.25 GPA will earn an "advanced diploma" distinction. Learn more about college requirements at Nevada Ready!.
Study Tips
Be the Teacher
Try to explain the material in your own words, as if you were the teacher. Saying the material aloud will point out where you are confused and need more information and help you retain the information you are learning. As you explain the material, use examples and make connections between concepts (just like your teacher does). Creating a quiz for yourself will also help you to think like a teacher (Craik, 1975).
Give Yourself Permission to "Space Out"
Space out your study time over several short periods for multiple days (Newport, 2007). This effective practice will result in the same (or less) amount of time studying but will help you learn the information more deeply and retain it long term. Long study sessions lead to a lack of concentration and a lack of learning.
Silence Isn't Always Golden
Know where you study best. Not everyone can focus in the silence of a library. Some people concentrate better with light background noise. If that's you, try listening to classical music while you study, or work outside in the sun where you can hear the sounds of kids playing or nature buzzing. Active studying is rarely silent, and you don't have to be either.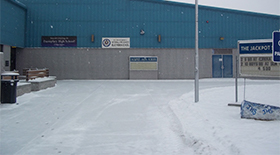 Mission
Jackpot strives for
Achievement
Commitment
Knowledge
Pride
Opportunity
Team Work
Bell Schedule
Arrival: 7:50 a.m.
Breakfast: 8:00–8:25 a.m.
Period 1: 8:25–9:22 a.m.
Period 2: 9:25–10:22 a.m.
Period 3: 10:25–11:22 a.m.
Period 4: 11:25 a.m.–12:22 p.m.
Lunch: 12:22–12:53 p.m.
Period 5: 12:53–1:50 p.m.
Period 6: 1:53–2:50 p.m.
Period 7: 2:53–3:50 p.m.
Detention: 3:55–4:25 p.m.